They say that matches are made in heaven and for everyone, they have created someone. But sometimes, on first glance, it becomes apparently quite difficult to grasp that two people who are vastly different to each other for a varied number of reasons, are together. They amaze us, surprise us and shock us, but nonetheless, they still duke it out with each other. Today, let us take a look at ten of such couples who are sure to turn heads every time they appear together. So, here's presenting 10 Weirdest couples you won't believe actually exists.
Ahmed Muhamed & Safia Abdulleh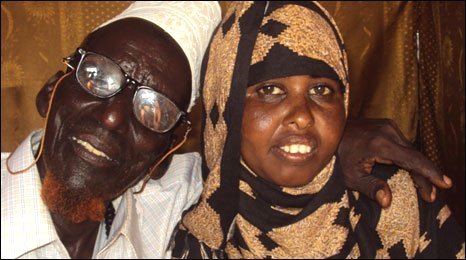 Starting our list at number 10 are Ahmed Muhamed and Safia Abdulleh, who married each other in 2009. Now, you might have guessed from the looks of it, but for those who are still wondering what is so odd about the couple is the fact that there is a whopping 95 years of age difference between the two of them. At the time of marriage, Ahmed was 112 years old while Safia was merely a teenager aged 17. This was Ahmed's sixth marriage. Talk about someone marrying someone the age of their great- grand father.